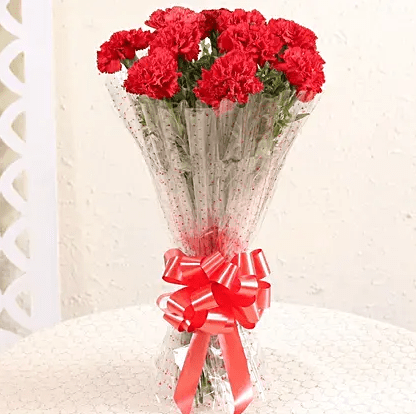 10 Elegant Red Carnations Bouquet
Your Gift Contains:
10 Red Carnation
Cellophane Packing
Red Ribbon
Red carnations are best suited to display your affection and admiration towards someone special in life. Order this elegant bouquet of red carnations to express your bountiful wishes for your mom on mothers day and make her heart glad with your sweet surprise.
Care Instructions
When your flowers arrive, just trim the stems and add water. Re-cut 1-2" of the stems at a 45 degree angle.
Use a clean vase and clean water.
Remove the leaves below the waterline but do not remove all leaves along the stem length.
Check the water level daily and replenish as needed.
Don't place flowers in direct sunlight or near any other source of excessive heat.
All flowers benefit from a daily mist of water.
Enjoy your flowers.