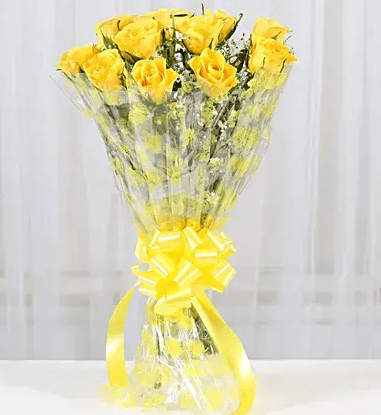 12 Delightful Yellow Roses Bouquet
Your Gift Contains:
12 Yellow Rose
Cellophane Packing
Yellow Ribbon
The unique beauty of yellow roses is admired by everyone that is perfect to add positivity to the interiors of a house. If you have been invited to a housewarming party of a dear friend, then this delightful bouquet of yellow roses will convey your congratulatory wishes for him in the best manner.
Care Instructions
When your flowers arrive, just trim the stems and add water. Re-cut 1-2" of the stems at a 45 degree angle.
Use a clean vase and clean water.
Remove the leaves below the waterline but do not remove all leaves along the stem length.
Check the water level daily and replenish as needed.
Don't place flowers in direct sunlight or near any other source of excessive heat.
All flowers benefit from a daily mist of water.
Enjoy your flowers.