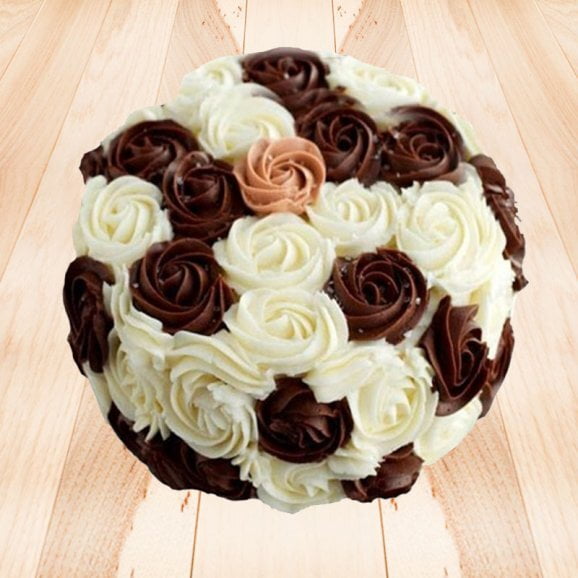 Flowery Choco-Vanilla Cake
This mouth watering cake will give you a feeling of paradise by its look and taste both. Beautifully baked with the most lip smacking flavors, this cake is decorated with chocolate and whipped cream flowers. Thus, this cake is not looking less than a paradise by its enticing look. So, shop this paradisiacal cake to embellish your special occasions.
Highlights:
Type of Cake: Cream
Type of Bread: Vanilla
Type of cream: Vanilla
Filling in Layers: Vanilla cream
Delivery Details:
The delicious cake is hand-delivered by our delivery boy in a good quality cardboard box.
Candle and knife will be delivered as per the availability.
Care Instructions:
Store cake in a refrigerator.
Consume the cake within 24 hours.
Sometimes sweet and simple amusement have a greater way in touching the heart than something bountiful and alluring and this overly simplified amusement is what vanilla flavor viewed for. It has a delicate texture and adds flavor to the celebration. It seems that the heaven of snow landed on a plate.
The sweetness of this cake is irresistible. You can't resist yourself by having another bite of this lovely and delicious cake. A beautiful design on the top of the cake adds great beauty to the cake. This cake is one of the most popular cakes among cake lovers. It is suitable for every occasion. Valentine's Day, Birthday, Wedding, Get-together, Baby shower and many other occasions. Surprise your better half with this beautiful cake. You can thank your father whatever he has done for you by gifting this cake on Father's Day.
Ingredients Used:
All-purpose flour, baking powder, baking soda, salt, sugar, vanilla extract, butter, milk, whipping cream, vegetable oil, white chocolate