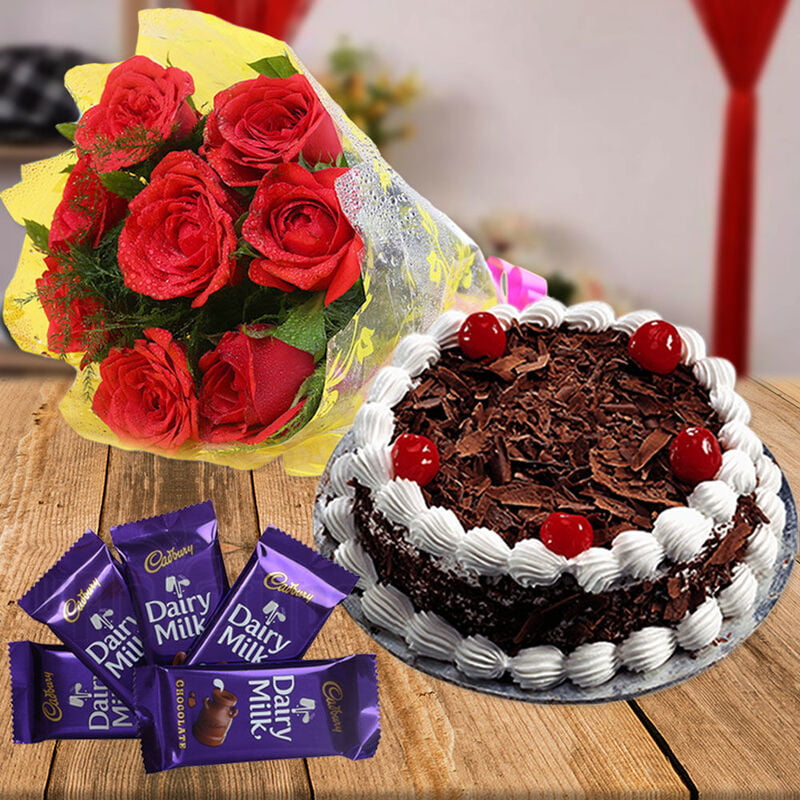 Golden Moments
Bouquet of Red Roses
No. of roses: 6
Packing: Cellophane
Black Forest Cake
Cake Flavor: Black Forest
Shapes Available: Round and Heart-Shaped
Weight: 500 Gms and above
Chocolates
5 Dairy Milk Chocolates of 12.5 gm each
Bouquet of Red Roses
No. of roses: 6
Packing: Cellophane
Black Forest Cake
Cake Flavor: Black Forest
Shapes Available: Round and Heart-Shaped
Weight: 500 Gms and above
Chocolates
5 Dairy Milk Chocolates of 12.5 gm each
Delivery Details
The delicious cake is hand-delivered by our delivery boy in a good quality cardboard box.
Candle and knife will be delivered as per the availability.
Care Instructions
When you get flowers, trim the stems; cut 1-2 inches of the stems.
Put flowers in a clean vase and pour water.
Store cake in a refrigerator.
Consume cake within 24 hours.
Treat your special one with this lovely combo and make them feel extra special. If you are looking for a stunning gift then this is the best choice that you can gift to your loved ones on any occasion. Take your relationship to the next level by sending this gift to the person whom you love. Roses have the power to cherish the bond and cakes along with chocolates have the power to please the mood of the receiver.
Products in this combo:
1. Lovey Dovey Surprise (Quantity: 1)
2. 5 Dairy Milk Chocolates (Quantity: 1)
3. Black Forest Cake (Quantity: 1)