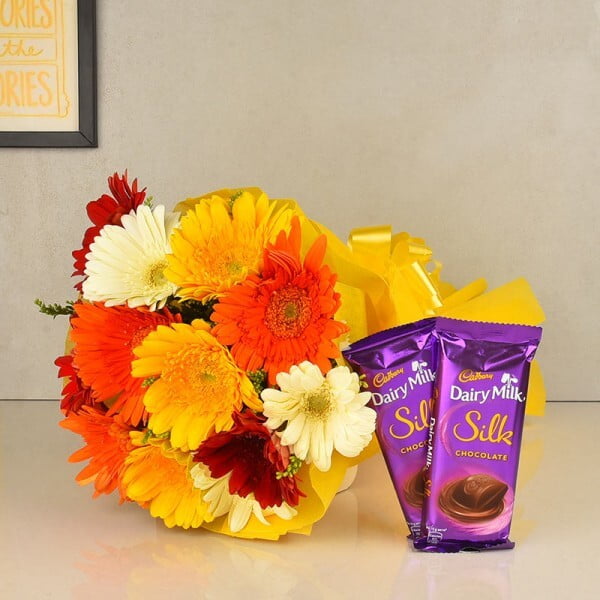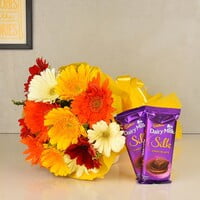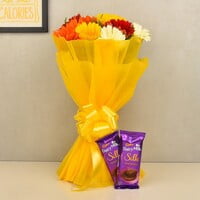 Mood Elevator
The Happy and Cheerful Gerberas can make every eye sparkle while Chocolates are known to lift the mood. This Gift Hamper that has a floral arrangement of 12 Colourful Gerberas, wrapped in Yellow paper and sealed with an Yellow Bow and 2 Cadbury's DairyMilk Silk is a true mood elevator. Make someone's day by sending it to them.
Product Contains:
- 12 Colorful Gerberas
- Yellow Paper packing
- Yellow Bow
- 2 Cadbury's DairyMilk Silk (60 gms each)
When you get flowers, trim the stems.
Cut 1-2 inches of the stems.
Put flowers in a clean vase and pour water.
Keep flowers away from direct sunlight.
Surprise someone special with this sensational and sentimental bouquet arrangement of fresh pink gerberas, artistically wrapped in a beautiful paper packing. Since gerberas are the symbol of innocence you can gift this bouquet to your daughter. This bouquet is sure to bring ecstatic smiles along with your best wishes.
Origin:
Ranked as the fifth most popular flowers- gerbera is the native of South Africa. This flower is named after German naturalist Traugott Gerber. This divine beauty is the epitome of emotions and you can gift this bouquet to your loved ones.
Composition:
This angelic beauty is a bouquet of 10 pink gerberas wrapped in a blue packing and tied with a pink ribbon bow.
Winni's word:
The most beautiful creation of God in this world is flowers. Gerberas are meant for purity, cheerfulness and innocence. The 10 pink gerberas can fill any home with heavenly light. Preferable in occasions like birthday, anniversary, success party,Valentine's Day, Propose Day, Mother's Day, Daughter's Day and many more.