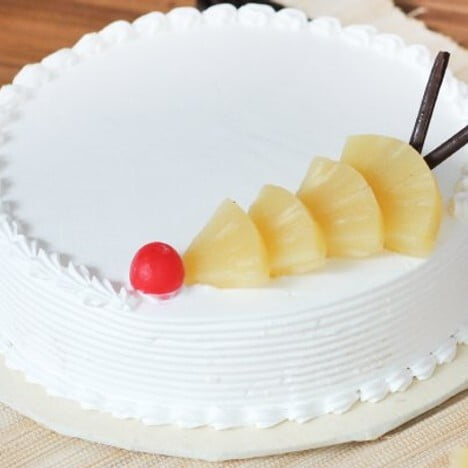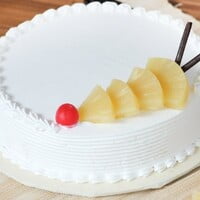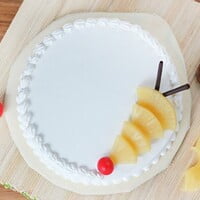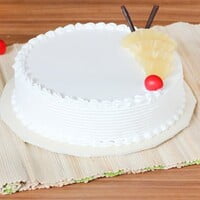 Pineapple Cake
A layered mushy, creamy, and fluffy cake infused with the luscious flavor of pineapples and enriched with fresh vanilla cream that is extremely pleasing to your taste buds. Covered in fresh white vanilla cream, this pineapple-flavored cake is topped with luscious pineapple slices, chocolate drum sticks, and cherry.
Highlights:
Cake Flavour: Pineapple
Type of Cake: Cream
Type of Bread: Vanilla
Type of cream: Vanilla
Filling in Layers: Pineapple
Toppings: Red cherry & Pineapple
Delivery Details:
The delicious cake is hand-delivered by our delivery boy in a good quality cardboard box.
Candle and knife will be delivered as per the availability.
Care Instructions:
Store cake in a refrigerator.
Consume the cake within 24 hours.

Pineapple cake is one of the most popular cakes among cake lovers. A cake for sure to delight someone special! Excite your someone special with this special mouth-watering cake. A creamy creation to sweeten your sweet bud!
Pineapple has the taste of sweet, tart and juiciness. It's a that suits every occasion, be it Birthday, Anniversary, Fresher's Party, Retirement Party, and Baby Shower. Surprise your loved ones with this delicious dreamy creamy pineapple cake.
Ingredients Used:
All-Purpose Flour, White Sugar, Baking Soda, Vanilla extract, Pineapple, Cream Cheese, Butter, Confectioners' sugar, Red cherry, Yellow food coloring