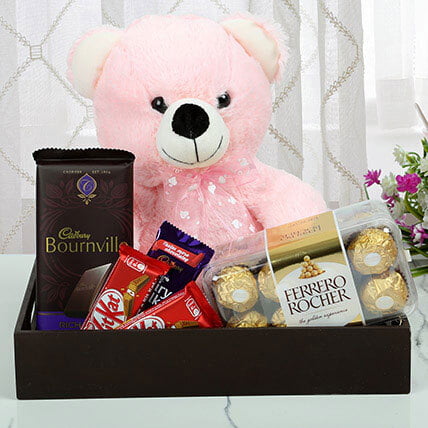 Teddy bear with chocolates
Product Contains:
16 Ferrero rocher with box
1 Cadbury Bourneville chocolate (80 gm)
1 Cadbury Dairy Milk silk (60gm each)
2 Nestle KitKat (25 gm each)
12 Inch cute teddy bear
Note: Actual product may vary like colour of the teddy as per the availability
The image shown is only indicative and representational in nature and is only for illustrating the purpose
Always store your chocolates in a cool and dry place.
Keep your chocolate away from a heat source and direct light.
Keep your chocolate away from other strong and unpleasant smelling products because it can affect the chocolate flavor.
Before consuming your chocolates, please see the expiry date on the package.
Once the cake is delivered or picked up, all responsibility belongs to the customer.
Enjoy the happy occasion with the yummiest chocolates!